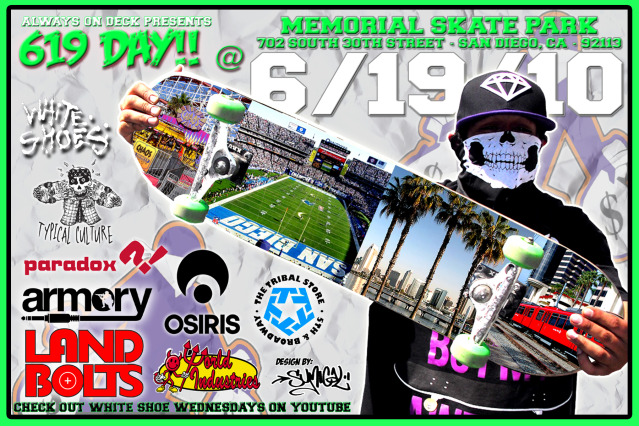 6/19 Is Diego Day!  It's official,  Always On Deck has put together the First Annual 619 Day! San Diego being the Skateboard Mecca bringing your some of the worlds greatest skate pimps, it's only fitting that we have a day of celebration and Skate.
There will be barbecue, food and drinks and music provided by DJ Sunk. The 619 Day Skate event  will be held at the Memorial Street Skate spot. There will be a 2 on 2 game of S.K.A.T.E and a various best trick contest throughout the park.
Free gear and product tosses provided by. Osiris, World Industries, The Armory,Land Bolt, Typical Culture, and Tribal.
The will be a Writers Only best handstyle, best throw up Contest to see who can rep the 619 with style.
Who: Always On Deck and All the Deigo heads Who Rep the West!
What:The First Annual 619 Day Bitch!
When: Saturday  June 19 AKA 619 All Day Till The Lights Go Out.
Where: Memorial Skate Park. 702 South 3oth. Street San Diego, CA 92113.