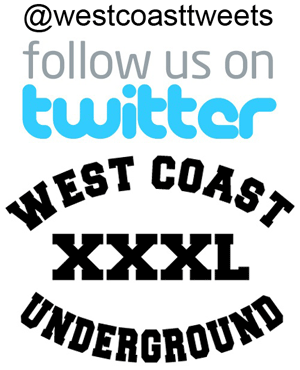 @Westcoasttweets gives you the latest in news on West Coast Music, Fashion, Events and everything in between.  Now you can get your daily feed of whats Crackin'  on the West side of thangs.
Westcoastunderground.com is all about the "West"  lifestyle, culture music, cars, skate, surf, events, festivals etc.. With posting on topics ranging from hip hop to punk rock, pit-bulls to vinyl toys, Snoop Dogg to Ozzy, skateboards, to Cadillacs. if it's hot on the West, let us know about it.
Follow us, we trying to get a hundred by this weekend and a thousand by the end of the month.