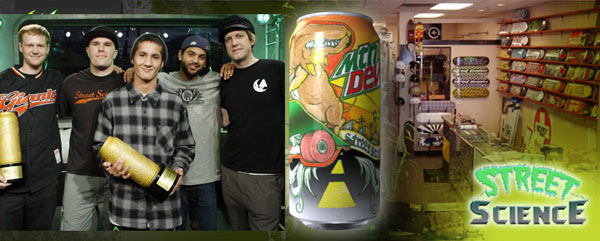 After four months, and over one million votes, the West Coast comes out the Champion, beating out six other regional finalists to win the $10,000 grand prize and the honor to have its their featured on a nationally distributed Mountain Dew can in 2011.
Mountain Dew Green Label Art: Shop Series kicked off in June with the unveiling of Paul Rodriguez and Don Pendleton's can design, which served as the inspiration for the program.  The contest started out with 35 skate shops from all around the country setting out to design an original artwork piece for a limited edition Mountain Dew can.
The first round of voting narrowed it down seven finalist.  Last week Mountain Dew brought out representatives from each of the seven shops and their artists to Las Vegas for the winning announcement. And the winner is…… Street Science Shop of  Tracy, Calif.
Winners Justin Lomba and Jeremy Morgan opened the Street Science Skate Shop in February, 2008 with the simple idea of keeping skateboarding true to its raw street origins. Today, the shop is run by Jeremy, Justin and his wife Tara Lomba.  Jonathan "Seb" Costa, a local teenager, is the artist who designed the winning can. The design features Tracy Boulevard, the popular water tower and a pit bull riding a skateboard.
Mountain Dew launched its first Green Label Art program featuring a collection of limited-edition bottles designed by artists from across the nation in 2007. To find out more information about the program, see all 35 can designs and the Paul Rodriguez-Don Pendleton collaboration, visit www.greenlabelart.com.