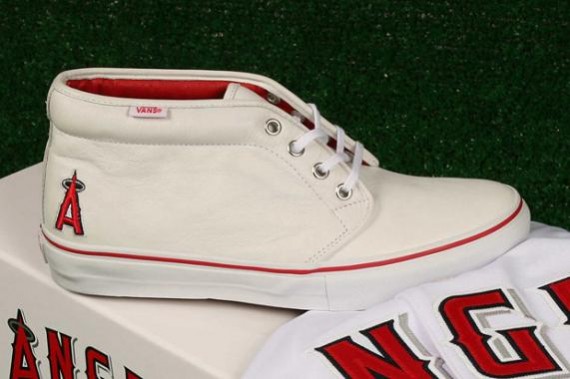 Vans teamed up with Major League Baseball to create the Opening Day Collection. This extremely limited edition classic Vans Chukkah LX will be released on the day of season opening home game of the Anaheim Angels April 5th. 2010 and is only available at PROPER in Long Beach.
The Opening Day Collection sports classic sneaker styles redesigned with team loyalty in mind and corresponds to the respective hometown team. For the City of Angels, the powers that be have selected the Vans Chukkah LX. The Chukkah LX features a nice white clean silhouette and small embroidered Angels logo on the back.
The Opening Day Collection limited edition release comes with co-branded baseball jerseys and the pack will be going on sale on Apr 5 at Proper in Long Beach, on the same day as the Los Angeles Angel's Opening Day game against the Minnesota Twins.
Proper Long Beach
425 East 1st Street
Long Beach, CA 90802