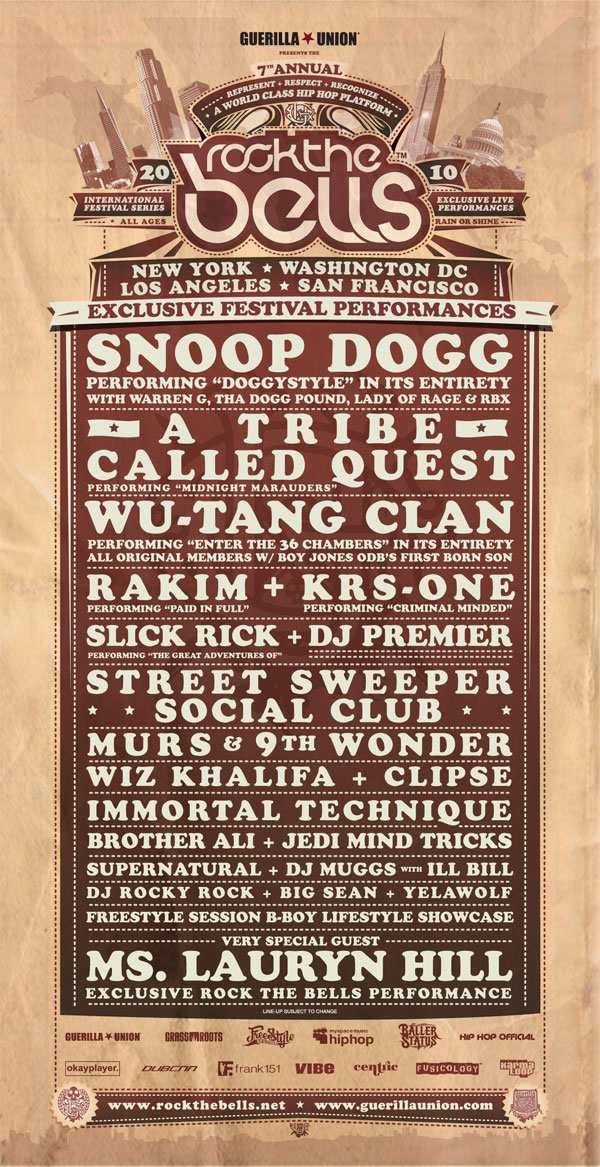 The Crew over at Guerrilla Union and  Rock The Bells have come up with a creative and unique presentation for the 7th Annual Rock The Bells Festival. Instead of the headlining Artist getting on stage and preforming random mix of their new and old songs, they will perform their most influential albums in their entirety.
Here is example of what you can expect at the 2010 Rock The Bells Festival.
Snoop Dogg  will  perform tracks his classic debut album "Doggy style" with help from Warren G, Tha Dogg Pound, Lady of Rage and RBX
A Tribe Called Quest who will give you "Midnight Marauders", the album that pioneered the fusion of hip hop and jazz, track by track.
DJ Premier has signed on to perform a Tribute to Gang Starr after the recent loss of Guru and Ms.
Lauryn Hill will have a unique set prepared exclusively for Rock the Bells, featuring songs from her critically acclaimed album The Miseducation of Lauryn Hill spanning through her work with The Fugees and more.
Wu-Tang Clan, Rakim, KRS-One,and Slick Rick will all perform similar sets featuring their most influential albums.
Other Artists confirmed for the ROCK THE BELLS 2010 FESTIVAL SERIES include:
Street Sweeper Social Club
Murs and 9th Wonder
Wiz Khalifa
Clipse
Immortal Technique
Jedi Mind Tricks
Brother Ali
DJ Muggs and Ill Bill
Big Sean
Yelawolf
Hosted by
Supernatural
DJ Rocky Rock